Yali Dream Creations. LLC, popularly known as YDC, is a homegrown desi comics company which is mesmerising comics lovers around the world! YDC was founded by Asvin Srivatsangam in
2012. YDC is a comic company focused on creating original stories to engage global audiences using comics and graphic novels based on original imaginative stories with an admixture of horror, fantasy, mind-bending sci-fi and mythology.
We were lucky enough to get in touch with Asvin who helped us out to narrate his journey and aspirations of YDC, so here goes…

You had a successful corporate career, what inspired you to venture into the business of comics?
Well, as a child, I had grown up watching cartoons and later as a teenager, I ardently read many comic books. Additionally, for the past many years, the Marvel and DC movies have constantly inspired me to venture into this foray. While it has been a wonderful journey so far, it has not been an easy one as all the members of our team are living in different geographic areas making coordination time-consuming and difficult.
What's the origin story of Yali Dream Creations?
Simple, a comic book lover pursuing his dream of publishing his own comics!
Which comic character, publication or comic book creators do you like? Why?
We are spoiled for choices these days. From international players such as DC and Marvel to indie production houses such as Image Comics and Dark Horse, theres so much good content to choose from! I personally really like Mark Millar as a writer and creator.
Why did you decide to work in the genre of horror, fantasy, sci-fi and mythology?
These forms are the most visually appealing forms and well suited to tell the stories in the form of comic books and graphic novels.
How did Rakshak come into existence? What were the learnings while working on this title?
We at YDC wanted to create a superhero who is believable and imitable. Once we had the idea, to begin with, we wanted to find a suitable name for the character. I felt Rakshak is most suited. I am glad that I choose a name that is very pan-Indian, has mass appeal.
We worked on nearly 350 pages with various artists on the origin series. The bulk of the pages were done by Pramit Santra. Shamik Dasgupta has done a wonderful job of weaving a wonderful story together. Now, we have started on the next arc for Rakshak. Its called 'Crackdown'.
What was the inspiration behind the Caravan titles?
Dusk till Dawn and Ramsey Bros.
How are people reacting to your work?
We offer original stories which are not based on mythological stories that have been told many times over and over again. These mythological stores have their own niche, however, we were able to fill the vacant space by telling stories which are not only original but also believable and cinematic
Tell us about the team you are working with right now. What makes it special?
We are working on 'Rakshak: Crackdown', 'The Caravan: Vengeance', and 'Scions of the Cursed King'. YDC is using a group of artists to work on these titles, and each artist has his own unique expertise.
Yali Dreams team at ComicCon Delhi


Shamik Dasgupta our author and creative director (Caravan, Devi Chaudhurani, Rakshak, TnT)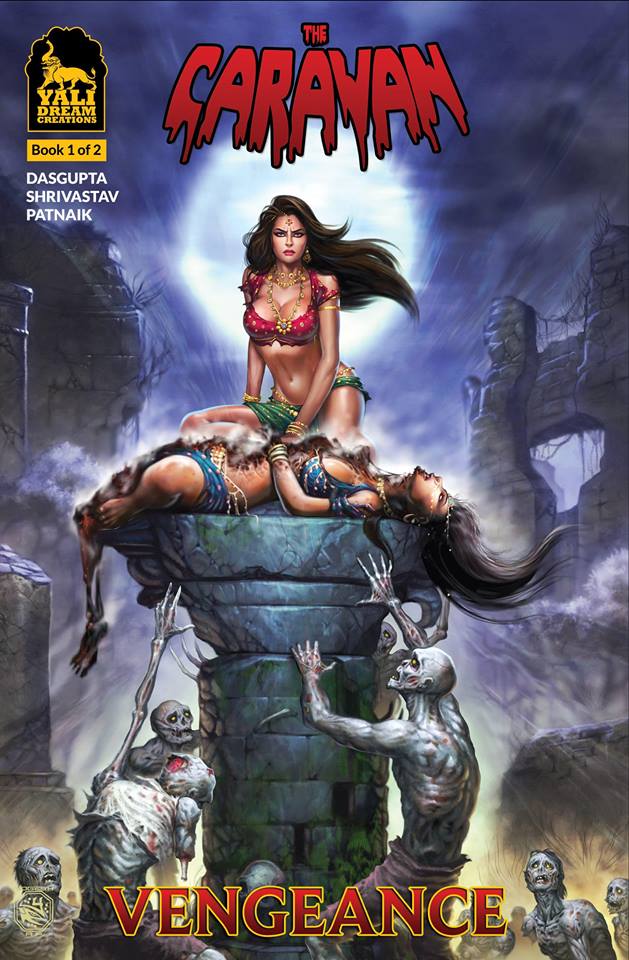 Tell us about your plans for the LIVE action adaptation of Caravan.
Unfortunately, at this point, I cannot disclose anything. However, our couple of other titles too might soon get sold for live action adaptation.
Are there any plans for animated of Live action series, perhaps on Netflix?
That's something I cannot plan. Things take their own course, but I do not think animation is a space we want to jump into right now.
How has been your journey so far with Yali Dream Creations? What's your next goal? Are you working on any new titles?
It has been a wonderful journey so far. Given we had limited funds, we were able to create some powerful titles without compromising the quality. The future looks bright and so does our hope.
What's your opinion about other native comic book creators from India? Especially the new ones like Vimanika and Holy Cow?
Vimanika is mostly into mythology, which is a space we are not too keen on getting into. HCE might be a company which we could consider to be in a similar space.
What's your opinion about the future of the native comics industry in India?
We have many challenges with various forms of entertainment and its consumption, thereby limited attention of people. Reading as a habit is fast coming down in numbers. We need more readership and better distribution. Else these are going to kill the native comics.
Do you feel comics have the potential to influence India's youth? If yes, then why?
Yes, I believe as art draws inspiration from life, people are also influenced by art. Comics have the potential to influence the youth as they can associate with many of the characters. The main reason for it being the characters are a representation of the people.
We are extremely thankful to Asvin because he took time out from his busy schedule to interact with us. We are truly in love with the work that YDC is doing in terms of creating a unique identity for India's legacy in terms of comics. We wish the entire YDC team the best of luck for all their future endeavours and we hope that they will continue sharing more awesome stories with us.