One fine day, during our exploration of the Indian art scene, we were absolutely delighted when we came across Wicked Broz and their awesome work labelled 'Indian Graffiti'! Wicked Broz is India's first graffiti agency. They work with a group of passionate artists who love to paint walls, injecting them with thought-provoking art. Through graffiti, they hope to spread positive change in the attitude of various sections of Indian society by promoting tolerance of various underground arts and hobbies.
Definitely, fate was at play and we decided that we had to know more about their journey, motivations and aspirations! Hence we got in touch with Zain Siddiqui, who is one of the founders and he gladly answered all our questions. So here we go …
How was Wicked Broz born?
Wicked Broz started like so many art projects and startups do – in our college dormitory. As kids whiling away their time in the kingdom of boredom in Sinhgad Institute of Technology in Lonavala, we realised that art held a door open for us to kill that boredom. The counter culture vibe in our group combined with the let's change the world attitude led us to form Wicked Broz. We sketched, we painted empty whiskey bottles, we sold art merchandise in flea markets and we upcycled an entire pool parlour.

It's only when we met Zake did Omkar and I truly find graffiti as a medium to execute our dreams. I remember this line that JR, the famous street artist said in his TED talk – "Art cannot save the world, but it can change it!". That I guess is the crux of what we hope to do in life.
Who are the core members of this initiative?
We don't have a core, we only have hardcore members! Omkar Dhareshwar and I run the daily rigour of everything from concept ideation to marketing to finances to on ground support. Zake, who is one of the pioneers of graffiti in Mumbai, has been our inspiration and main man on the wall along with Mooz and NME all these years. However, we want to put it out there that we are always open to collaborations with other artists including female artists (Yes, don't go by the name alone… Hehe).
What are you trying to achieve?
We want to paint as many walls as possible to change the perception of art. While we are at it, we hope to make a positive contribution to the income of all artists that we collaborate with. It's a tricky line between the two but I guess that's what makes Wicked Broz unique.
Why did you choose graffiti as a means of expression? 
Graffiti is infamous as 'vandalism'. It's the stylistic representation of your name as a writer everywhere. On his day, a graffiti writer can paint anything – public walls, abandoned warehouses, gullies, bridges, cars, trains, planes and roads. Yes, nothing is spared the wrath of the graffiti writer. It's the thrill of doing this illegal thing that makes you famous on that street overnight that keeps you going. From this thrill is born street art.
When some writers decide to abandon writing names and take up painting actual art – that opens up a whole new world of possibilities. From political propaganda to hyperrealistic portraits to creating stunning works of 3D and symbiotic art with surrounding nature, there are so many things you can choose to do. Over the decades, it's a movement that has taken over the globe and is slowly taking over India too. Isn't that the most exciting thing? Why would we choose anything else?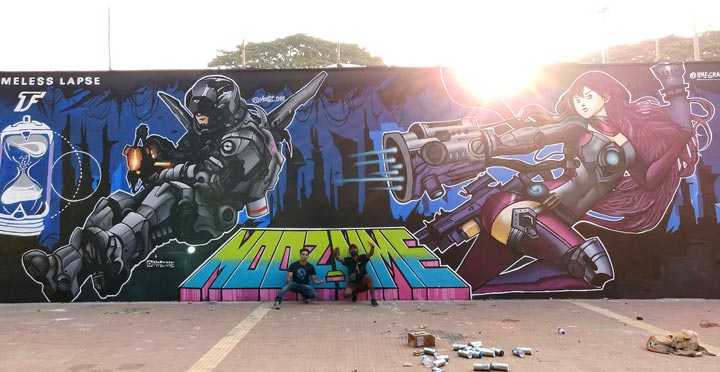 Although we have evolved from pure vandalistic graffiti to more subtle concepts and messaging, the odd tag here and there never fails to give us the old kick.
How do you plan and execute your projects?
Whether it's a client project or our own collaboration on a public wall, every project always begins with motivation. What do we hope to achieve? This simple question answers everything about what we will eventually end up making. A graffiti piece? (need very little thinking here..) or a 400 feet wide story of a man travelling across a sea of knowledge that we made for Indore Smart City. Everything else flows!
Which are some of your most memorable projects?
The Sea of Knowledge mentioned above was one of the most legendary projects I worked on with Zake, Dibs, Munki, Epoc, Rez and NME. The sheer act of developing a story and watching it evolve on a wall was orgasmic.
Every year the Techfest at IIT Bombay is a special event where we end up making new friends.
Although every project is unique and special I would rank my first project with Waste Warriors in Ambala as my most memorable. We created the city's largest mural by celebrating the sanitation workers through their portraits. We called them Swacchta Sainani. Hats off to Insane Strokes and Prateek Sharma for being in the team and Shubham Negi and Kartik Singla for activating their local crews. Such projects give us the chance to be part of a movement greater than art and bring us closer to new cities and new inspirational people.
Visit our blog to view some of the best projects we worked on in 2018.
How do you collaborate with artists?
Our major collaboration so far has been with the Doing Insane Shit crew – Zake, NME and Mooz have been the backbone of many of our major projects.
But in recent months we have started getting requests for other kinds of styles. For example, in Paint My City campaign in Prayagraj we worked with Pune based Afzan Pirzade because he has a more illustrative style suited to that theme. Similarly, we collaborated with Rikis DSantander in Jabalpur because of his international experience. We went on a trip with him across Rajasthan right up to Agra painting on the streets and having fun clicking insane pictures along the way. Not everything is planned. You gotta go with the flow and respect the feelings of the artists.
Who are the most memorable people/groups that you have worked with?
Wow! Big question. As we mentioned already DIS has been our favourite. The Keep It Real crew from Brazil consisting of Valdi, Ak47, Buyu, Vejam and Rizo is very close to our heart. They helped us out big time by inviting us to Brazil and taking care of us. We learned so much from them.
Recently, Rikis D Santander from Chile was here. He is a fun amigo to hang out with. Phibs is a graffiti legend from Australia we had the privilege of hosting. Kirian was a crazy person from Germany who made us fall in love with graffiti all over again. Key Detail and Julia Yu-baba are a really one of a kind couple painting and travelling together. Check their work out to be blown away. Shiro is a Japanese artist we met in Brazil during the Street of Styles. Shout out to her!
Insane Strokes has partnered with us on a couple of projects and is actually insane. Afzan Pirzade has been a real revelation last year. I have no words for him. Just check his work out. The T3K crew of Akill, Dibs and Epoc along with Flyin Munki from Goa are a really talented lot. We are still to see their best I feel. Lobster, Shirin Shaikh, Dexter and Sazar are other names we cannot leave off this list. All of them have been a source of help and learning.
The journey has just begun. Wicked Broz is going to be the face of artist collaborations on the streets.
How are people reacting to your work?
Street art always creates a positive response from people. Many of our pieces get featured in music videos and Instagram pictures sometimes even without our knowledge. That just goes to show that everyone loves a bit of colour on drab walls.

We just hope that our art creates more impact than just a wow. We want people to stop and think. For example the Question mark campaign. We sprayed question marks on around 500 potholes in Mumbai at night. Next morning the papers carried the headline about the mysterious question marks. It brought attention to a problem we all face while travelling in our city. We want to do more of that stuff.
What are your most cherished achievements?
Every piece you do builds your street cred. Every year we represent India at Techfest IIT Bombay. We were the first to represent India in the Street of Styles graffiti festival in Curitiba, Brazil. We painted the biggest murals of Ambala and Dharamshala with Waste Warriors.
We painted a train engine in Lonavala. We are regularly collaborating with artists to come and paint in Marol and other parts of Mumbai.

We have been regularly getting commissioned work for the artists we work with. Not just graffiti but hip hop in general. We helped produce MC Altaf's first music video that featured Ranveer Singh.

We manage Bboy Flying Machine who is three times Red Bull BC One India winner. I think all of this combined has led us to be one of the faces of Indian graffiti scene and being covered by Red Bull, NBA and other publications. We are just getting started bantai!
What can we expect from you this year?
This year first up we are organizing Ladies First – a women street art festival. The first of its kind in India. We believe women have been under-represented on the streets in India. Time to do something about that.

We are also planning to give Dehradun its first street art festival in partnership with our friends Waste Warriors. Apart from that Wicked Broz is going to move out of its bootstrap period and get funded so that hopefully we can scale up our daily operations.

We want to do more stuff in Marol Art Village. Let's make this epic!

What's your vision for the future?
The world is moving towards automation. The mechanization of humans is happening. Our aim at Wicked Broz is to preserve a bit of our culture. Let it not get lost in the dust of progress. Graffiti and street art are the most visible form of art. We want to be the front runners is that war of culture. We want to prove that nothing is a waste of time. Especially not art.

We want to achieve this by painting as many walls in as many cities as possible. Do more augmented reality based street art. Make ourselves a global agency creating top class graffiti for everyone. And in the middle of this all, not lose our mischief.

After all, shaitani bina bachpan bekar hai, nahi?
You can check their website www.wickedbroz.com